2023 Bathroom Design Trends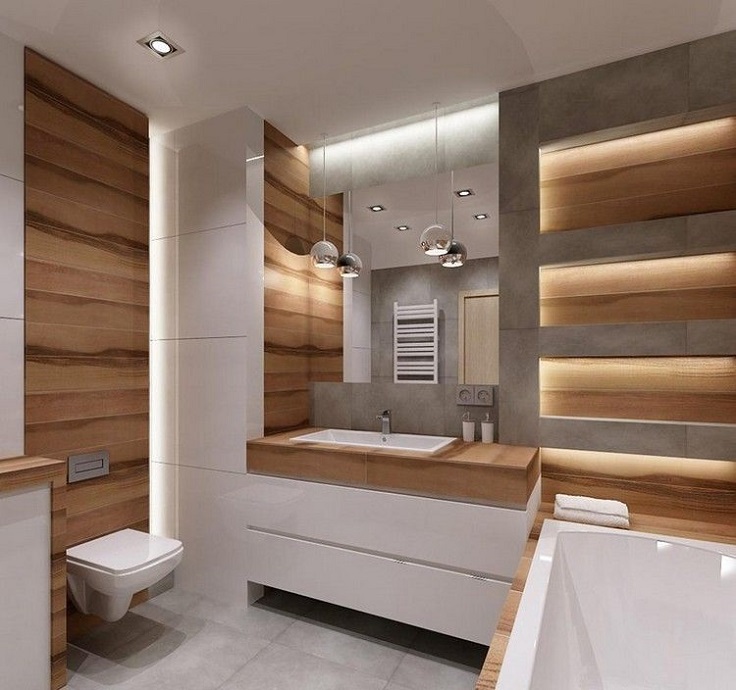 Bathroom trends 2023
2023 Bathroom Design Trends
Bathrooms are often the most overlooked rooms in a home. Although many homeowners may think twice about bathroom decorations, they should consider introducing high design elements that will transform it from a functional area to a relaxing sanctuary. Staying up-to-date with upcoming design trends is essential to creating a stylish and inviting restroom -- here are some popular bathroom design trends for 2023.
Increasing Focus on Green Living
Consumers are increasingly turning to green solutions to reduce their environmental impact. Sustainable products are becoming more commonplace in bathrooms, ranging from bamboo flooring to recycled glass tiles. Many manufacturers are also launching toxin-free cleaning supplies, ensuring that you can maintain an eco-friendly bathroom even when it looks luxurious.
Furniture-Style Vanities
Vanities are the centerpiece of any bathroom. To give your bathroom a sleek and sophisticated look, consider investing in a vanity designed to look like a piece of furniture. Many of these models feature unique details such as antique handles and decorative molding. This type of vanity is both functional and aesthetically pleasing, making it a great way to update your bathroom while still remaining classic.
Open Shelving
Instead of hiding away your linens in cabinets, try out the open shelving trend for 2023. This look adds a modern touch to your bathroom while also improving organization. Open shelves provide ample storage opportunities without making the space feel cluttered. Plus, this style looks great with almost any décor, so you can easily switch up your design depending on your desired look.
Organic Materials
Natural and organic materials are all the rage in 2023. Think stones, wood, and metals for a truly unique look. This kind of design will add warmth and texture to your bathroom. Wood, in particular, will help create a soothing ambiance. If you don't want to completely overhaul your bathroom, you could always add small touches such as wood accessories or stone tiles.
Texture-Rich Walls
The walls in your bathroom are just as important as the furniture. To really wow your guests, incorporate texture-rich walls into your 2023 design. Textured walls are a great way to add visual interest – try using paneling, wallpapers, decals, or tile accents. By playing around with the textures you choose, you can create a visually striking yet totally cohesive space.
Calming Colors
When it comes to color trends for 2023, calming hues are the way to go. Neutral tones such as beige, grey, and white will help make your bathroom feel tranquil and serene. If you're feeling bold, you can use an accent color such as teal or light blue to bring a pop of vibrancy to the room. Just remember to keep things balanced by pairing bright colors with neutral shades.
Vintage-Inspired Pendants
Lighting is a key element of any bathroom design. To instantly elevate the look of your restroom, install vintage-inspired pendant lights. Whether you opt for clear or coloured glass, these pieces will give your bathroom a timeless elegance. Not to mention, they'll also provide the perfect amount of light for all your grooming needs.
Statement Mirrors
Mirrors are an essential part of any bathroom, so why not make sure yours stands out? Look for mirrors with interesting shapes or bold finishes to really wow visitors. Statement mirrors are a great way to create visual interest in your bathroom without taking up too much space.
Floating Features
To make your bathroom appear larger, opt for floating features such as sinks, bathtub ledges, and storage units. Floating fixtures help create a light and airy look while also optimizing your space. Plus, installing floating features couldn't be easier thanks to their simple installation process.
Minimalism
If you're looking for a timeless design that won't go out of style anytime soon, consider minimalism. This style focuses on decluttering your bathroom and utilizing space-saving solutions. Keep the décor simple with geometric shapes and neutral colors, and accessorize sparingly with accent pieces. By embracing minimalism, your bathroom will look chic without being overly ornate.
High-Tech Solutions
Smart home technology is becoming increasingly popular – so why not introduce it to your bathroom? Automated showers, heated floors, and automatic lighting are just some of the high-tech solutions you can incorporate into your 2023 bathroom design. This type of technology will enhance your experience and make your life easier, making it definitely worth considering. No matter what design trends you decide to follow, the most important thing is that your bathroom reflects your personal style. By incorporating some of these 2023 bathroom design trends, you'll be able to create a space that's beautiful and functional – something you and your family will enjoy for years to come.

Bathroom Design Trends for 2023
With the start of a new year, comes new trends in home design. Homeowners have been looking to improve their bathroom decors and push toward modern style with unique accents to make the space really pop. Here are some of the top bathroom design trends for 2023.
Organic Textured Tiles
One of the most popular bathroom design trends for 2023 is using textured organic tiles. Natural stone tile, such as marble or slate, provides much more character than standard ceramic tiles. They may be slightly more expensive but are worth the extra investment.
Playful Patterns
Choosing playful patterns is another way to liven up a bathroom. Adding a geometric pattern that's made up of blues, greens, and browns to the walls adds subtle interest that can help draw attention to the room's best features. Using a combination of different textures and materials for the walls will help to add depth, and make the space even more inviting.
Calm Color Schemes
Another trend that's popular among bathrooms for 2023 is creating a calm and serene atmosphere with earth-toned colors. Soft shades of gray and other neutral colors create a peaceful oasis and will provide you with a place to relax after a long day. Incorporating colors like white or light cream will add a touch of brightness without taking away from the tranquility of the space.
Lighting Accents
Good lighting is essential when creating a beautiful bathroom. Luckily, accent lighting is becoming quite popular this year. By using sconces, recessed lights, and chandeliers you can easily create a warm illuminating effect that will brighten up your bathroom.
Statement Green Plants
A great way to give your bathroom a much-needed facelift is incorporating statement plants. Place a potted plant on the countertop, hang a planter from the ceiling, or install a living green wall. By adding life to your bathroom, you'll be creating an aura of relaxation and freshness.
Metallic Fixtures
Adding metallic fixtures to your bathroom can also give it an update in 2023. Silver, gold, and copper fixtures lend an air of stylishness to the space while also giving it a modern feel. You can also use knobs, sinks, and faucets made of metal to give your bathroom a metallic touch.
Rustic Elements
For those looking to embrace a more rustic look, wooden cabinets, wicker baskets, and natural-fiber rugs are all great elements for creating a lovely country-style ambiance. To attain an even cozier feeling, don't forget to add pieces of art to your walls, such as framed photographs, and antiques. By combining these bathroom design trends, you'll be able to create an elegant, inviting, and comfortable space that you'll enjoy spending time in. Whether you're looking for a refresh or a complete remodel, these trends can help you create a look that's trendy and timeless, all at once!


Small Bathroom Trends 2023: Best 10 Tendencies and Ideas to Use
Top 5 Bathroom Design Trends 2023
To keep up with the changing fashion and interior trends, homeowners should look out for new ideas or update their bathrooms to incorporate the latest design styles. In this article, we will explore some of the top bathroom design trends of 2023, including a wealth of inspiration for adding modern luxuries to your space.
Colour Blocking and Contrasts
Designers are currently exploring colour blocking as the perfect way to create a bold and stripped down look in the bathroom. The trend involves contrasting two or three long lasting colours to effectively divide the bathroom's elements. Popular colour combinations can include green and blue, or yellow and grey. Not only does the technique add a stunning visual contrast, but it can also help break up large spaces if done correctly.
Luxurious Wallpapers for Making a Statement
If you are looking to incorporate a little more drama to your bathroom decor, try turning to wallpapers. Depending on the wallpaper you choose, they can offer a wealth of creative opportunities. From creating feature walls or using them to bring an atmosphere of luxury to the bathroom, wallpapers are a great way to add character, texture and pattern to the overall design.
Using Stones and Natural Materials
Utilizing natural materials such as stone, wood, and marble in bathrooms is a trend that has become increasingly popular over the past few years and promises to remain popular into 2023. From wall-paneling to flooring, these materials bring a sense of serenity and can bring a touch of nature into your bathroom. Furthermore, natural materials are often extremely durable, as well as easy to clean.
Custom Designed Fixtures
Homeowners no longer have to settle for the stock options when it comes to bathroom fixtures. Thanks to technology and the advent of 3D printing, customers can design and 3D print their own custom fixtures. This trend not only allows you to create a unique, one-of-a-kind bathroom design but also results in fixtures that are more efficient and easier to maintain.
Smart Technology and Luxury
The world of luxury and technology have gone hand-in-hand for quite some time now and this trend is only set to get bigger in 2023. Smart technology plays a big role in bathrooms these days, particularly when it comes to toiletry, showers and sinks. For instance, you can opt for voice-controlled mirrors that offer a variety of features ranging from weather forecasts to those that allow you to control the lighting, temperature, or music in your bathroom. Overall, there are plenty of creative ideas and inspirations when it comes to creating a beautiful bathroom for the upcoming year. With the right combination of luxury fixtures, natural materials, and smart technology, you can turn your dream bathroom into a reality. So whether you're looking for a modern minimalist design or something more traditional, you'll be able to find something to suit your needs.