Small Bathroom Design: Maximise Your Space
Wednesday, November 8, 2023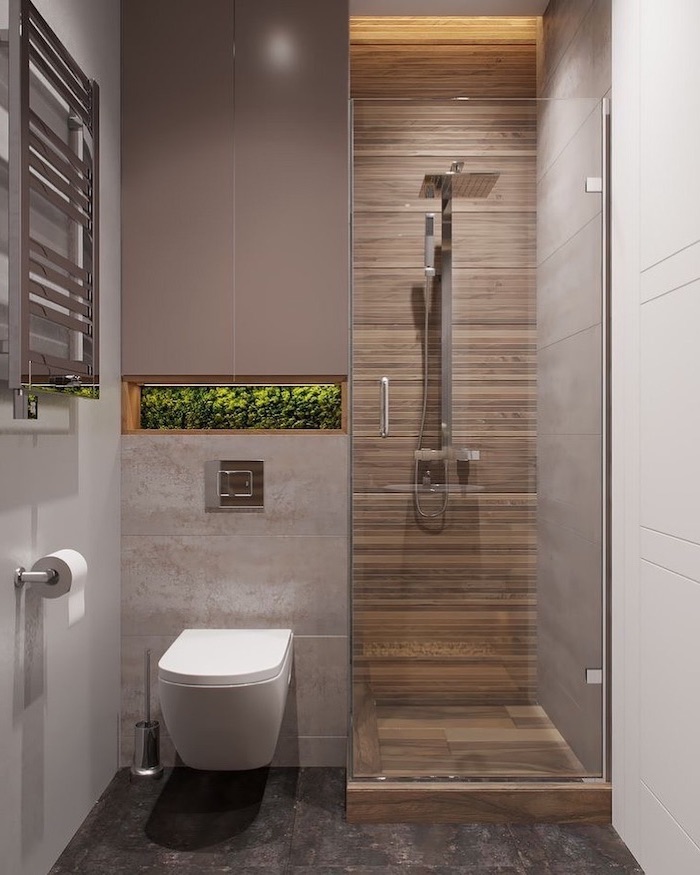 60+ beautiful and modern bathroom designs for small spaces
Small Bathroom Design: Maximise Your Space
Having a small bathroom can be a challenge, but that doesn't mean you can't enjoy all the features of your home. Designing the perfect small bathroom is easy if you know how to maximize the space available. You can make a small bathroom look bigger and more spacious with simple design solutions. Here are some useful tips for small bathroom design to help you get started.
1. Go For Bright and Neutral Colors
Choose bright and light colors for your wall and floor tiles to create a more airy and spacious feeling in a small bathroom. White, beige, and light grey colors are perfect for reflecting light and making a bathroom appear larger. Dark colors, on the other hand, can make a small bathroom feel cramped and uncomfortable.
2. Use Surface Mounted Installation
Wall-mounted fixtures such as the sink, toilet, and shower can help to free up space in a small bathroom by creating a more open and airy feel. This type of installation is also easier to install than floor-mounted fixtures, making it an ideal solution for small bathrooms.
3. Replace Your Big Bathtub With a Shower
If you have a large bathtub in your bathroom that takes up valuable floor space, consider replacing it with a walk-in shower or a clawfoot tub. These fixtures often take up less space while still providing an enjoyable shower experience.
4. Install Floating Shelves or Cabinets
Floating shelves or cabinets can provide valuable storage space without taking up too much of a small bathroom's floor area. They also have the benefit of being much easier to install than standard cabinets or shelving units.
5. Use Mirrors To Create An Illusion Of Space
A strategically placed mirror can help to create an illusion of space in a small bathroom. Just hang a large mirror on the wall across from the bathroom's entryway to reflect light and make the room seem bigger.
6. Be Smart With Ventilation
Good ventilation is essential to keep a room looking clean and bright and to prevent mold and mildew from taking hold. Use an exhaust fan or a window-mounted fan to keep moisture levels low and keep your small bathroom smelling fresh.
7. Make Use Of Wall Space
Make sure to make the most of wall space in a small bathroom. Hang shelves or baskets to store items such as towels, toiletries, and cleaning supplies.
8. Utilise The Ceiling
The ceiling is often an overlooked space in a small bathroom. Hang towel racks from the ceiling or add a chandelier to create ambience.
9. Add A Statement Piece
Adding a statement piece such as a bright-colored or patterned shower curtain will add a pop of color and create a focal point in a small bathroom.
10. Use Multi-Functional Furniture
Opt for multi-functional furniture such as a vanity that has additional storage space, or a bench with a built-in storage compartment. This type of furniture can help to store items and create additional space.
11. Add Something Unexpected
To give your small bathroom some personality, add something unexpected such as a patterned wallpaper or a unique vessel sink. A creative touch can help to make a small bathroom feel larger and more inviting.
By following these simple tips you can create a small bathroom that looks and feels bigger and more spacious. There are many options available today that can be tailored to your tastes and needs, so don't hesitate to get creative and show off your personal style in your small bathroom design.
Bathroom Design Tips for Small Spaces
A small bathroom can seem like a daunting design challenge, but with some clever tips and tricks, creating a stylish and comfortable space is possible. Whether your bathroom is big or small, there are many ways to maximize the available space and make it look good. Here are some tips to get you started on designing your small bathroom.
Make Use Of Vertical Space
When you have limited floor space in a small bathroom, you have to figure out how to best use the vertical space. Installing shelves and cabinets that go up the wall can give you additional storage and display areas. You can also find creative ways to hang towel racks, hooks, and other items. By taking advantage of vertical space, you can fit in more than you think you can in a small room.
Install A Floating Vanity
A floating vanity is a great way to create a modern look and feel while saving some floor space in a small bathroom. Floating vanities can be hung high up on the wall so they don't take up any floor space. They also make the room feel spacious by slimming down the visual weight of the vanity. Plus, the open space underneath offers plenty of room for a storage cart or additional shelving.
Choose Colors Wisely
The colors you choose can help to create the illusion of more space, so be mindful when picking out your color scheme. Light and airy colors, like white, beige, light blue, and pastels can help to create an open and airy feeling. Dark colors, such as deep blues, dark greens, and black can make the room feel more cramped and closed-in. For those who want more vibrant colors in their small bathroom, try two-toned walls or bright accessories to add a pop of color without overwhelming the room.
Don't Overstuff The Room
It may be tempting to fill every inch of the bathroom with stuff, but cramming too much into a small space will make it feel cluttered. Choose furniture and accessories that are essential, and stick to the essentials. Also, installing built-in shelves and drawers in the walls or ceiling can provide additional storage without taking up precious floor space.
Incorporate Mirrors
Using mirrors in a small bathroom can help to open up the space and make it feel larger. Hang a large mirror above the sink to make the room feel bigger, or install multiple mirrored medicine cabinets for storage and to bounce around more light. Additionally, try putting a full-length mirror in front of a window to make the room brighter and more welcoming.
Light It Up
Lighting is key to making any room feel larger, and bathrooms are no exception. Make sure to install good, bright lighting in the bathroom. If possible, try to add a window or a skylight to let natural light in. Using glass, translucent materials, and reflective surfaces will also help to bounce light around and make the space feel brighter. Creating a stylish and practical bathroom in a small space isn't easy, but with the right mix of color, furnishings, and lighting, it's definitely possible. Make sure to make use of vertical space, choose colors wisely, keep it simple, incorporate mirrors, and light it up for the most impact. With some creative thinking, you can create a beautiful and functional bathroom for your small space.


50 Cozy Bathroom Design Ideas for Small Space in Your Home - house8055.com
Designing Your Bathroom In Small Spaces
Having a small space can make it tricky when trying to find ways to make it work. Many people find that bathrooms are usually the smallest room in the house, leaving them with an even smaller space to work with. Fortunately, there are a few things you can do when it comes to bathroom design for small spaces.
1. Maximize the Space You Have
The key to designing a small bathroom is to maximize the space available. Think of ways to utilize corners and maximize vertical space. Floating shelves and corner toilets are just some of the ways you can add additional storage space without taking up too much room. Remember, the less furniture you put in the bathroom, the more space you will have.
2. Consider Natural Light
When it comes to small bathrooms, it's important to consider natural light. Natural light can make a room look larger while also making it feel more inviting. Try to place a window in the bathroom if possible. This will allow light to enter the space and open it up. Plus, you get to enjoy the benefits of fresh air!
3. Choose Light Colors
Light colored walls can help make a small space look larger. By using pale blues and neutral tones, you can open up the room and give it a more spacious feel. If you're feeling bold, add some color with a few accent pieces like towels and shower curtains to make the room look more lively.
4. Add Some Mirrors
Adding mirrors to your bathroom design is another great way to open up the space. Mirrors reflect light and create a sense of openness. Hang a mirror on the wall or buy one with integrated shelves to provide additional storage.
5. Invest in Multi-Purpose Furniture
Buying multi-purpose furniture such as a sink vanity that doubles as storage can be a great way to save on space. Look for furniture pieces with hidden compartments and storage underneath. This way, you can use the same piece for multiple purposes.
6. Utilize Your Wall Space
Don't forget to take advantage of wall space in your bathroom design. Try installing cabinets above the toilet or shelves on the walls to store items like towels and bathroom essentials. This will free up floor space while creating an organized look.
7. Avoid Clutter
Clutter can easily make any space look small or cramped so it's important to keep the bathroom neat and organized. Pare down to the essentials and utilize all the storage available. Keep the countertop clear and store items in drawers and shelves instead.
8. Don't Skimp On Style
Just because you have a small bathroom doesn't mean you have to skimp on style. Find furniture pieces that fit the space but still make a statement. A statement piece in the room can really help tie the space together and make it feel unique.
9. Get Creative With Storage
Get creative with the storage solutions you choose for your small space. Instead of having bulky storage units, try transparent furniture pieces like baskets or acrylic shelves. These items can hold items like toiletries and towels while still letting light pass through.
10. Take Advantage of Available Technology
Modern bathrooms come with a variety of technologies to help optimize the available space. Motion-activated faucets and lighting, as well as smart thermostats and even thermostatically controlled toilets, are great ways to save space and make the most out of a small room.
Conclusion
Designing a bathroom in a small space can be challenging but with a few simple tips and tricks, you can create an inviting and stylish space. Utilize natural light, choose light colors, and invest in multi-purpose furniture to maximize the space you have. Don't forget to get creative with the storage and take advantage of the latest technology to make the most of any size bathroom.