How to Find the Best Handicap Bathroom Remodel Near You
Tuesday, November 7, 2023

Accessible Bathroom Designs
How to Find the Best Handicap Bathroom Remodel Near You
Are you looking to update or remodel your bathroom to make it more accessible for someone with a disability? Whether you're doing it for yourself, a family member, or a friend, the process of finding the right contractor for the job can be a challenge. Here is all the information you'll need on how to find the best handicap bathroom remodel near you and the key factors you should consider when making your decision.
What to Look for in a Contractor
When searching for a contractor to do a handicap bathroom remodel near you, you want to make sure that they understand and can adhere to all the relevant laws and regulations that apply for handicapped accessibility. This means looking for one who has experience in creating bathrooms that comply with both the national guidelines set by the Americans with Disabilities Act and any additional requirements in your area. You also want to ensure the contractor is familiar with the products on the market and can provide a tailored solution to fit your specific needs, whether that's additional support for the shower or extended doorways for better access. It's important to check what type of materials the contractor uses. Many use man-made products, which can be cheaper but are often of poorer quality than natural materials. Quality materials will not only look better, but they may also last longer, so it pays to ask questions about the items being used. Finally, you want to make sure that the contractor isn't cutting corners in terms of safety. They should understand proper safety protocol to keep everyone safe during the construction process, as well as use reliable products with high safety standards. Asking for past customer reviews and references is a good way to get an idea of how a contractor works.
Avoid Unlicensed Contractors
When selecting a contractor for your handicap bathroom remodel, it's essential to make sure that they are appropriately licensed and insured. While unlicensed contractors may offer lower costs, they may not be aware of the most up-to-date code requirements and the safest methods for installation. Plus, you won't have any legal recourse for any potential damage done by an unlicensed contractor, leaving you vulnerable and open to liability. Ask for proof of insurance and license from the contractor before hiring them. If they don't have the necessary documents, it's better to move on and find someone else.
Price Considerations
Cost is always going to be a factor in finding the right contractor for your remodel, but it shouldn't be the sole determining factor. You want to be sure you're getting a fair price for quality work and reliable materials, so don't be afraid to shop around. If you're just beginning your search for a contractor, you may want to get a few quotes and compare prices. You should also ask about payment plans if they're needed or available. It's important to read through the contract carefully before signing or committing, so you know exactly what you're paying for.
Where to Start Your Search
The first step in your search for a contractor to do a handicap bathroom remodel near you is to take time to do your research. Ask your friends and family if they know anyone who can recommend a trusted contractor. You should also read over online reviews and visit the websites of any companies you're considering. Additionally, it's good to check with your local chamber of commerce and see if there are any relevant local associations that might be able to help you in your search.
Getting Started
Once you've narrowed down your list of potential contractors, start having conversations with the ones you're most interested in. Ask about their qualifications and experience with handicap bathroom remodels, and inquire about their credentials. Make sure you discuss your needs in detail and get a comprehensive estimate of the costs for the project. Once you've found the contractor that best suits your needs, sign a contract that outlines the scope of the project, materials to be used, timeline for completion, payment schedule, and warranty information. With the right contractor and some preparation on your part, the remodeling process should go smoothly and you'll soon have the new accessible bathroom of your dreams.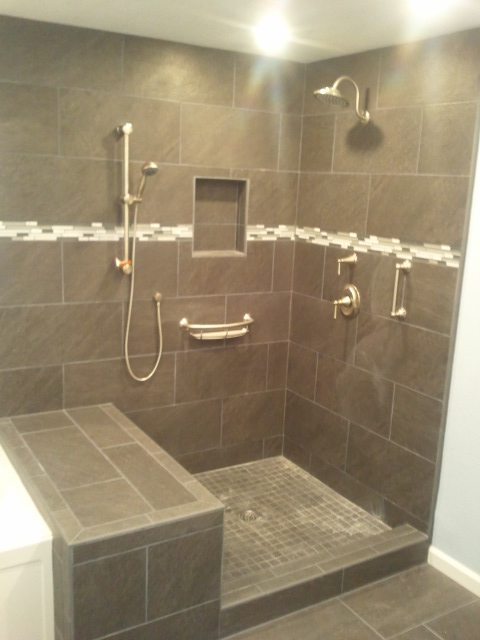 Handicap Bathroom With Orange Wall Colors And Ceramic Tiles | Handicap ...